Revolution at Home: The Muhlenberg Family of Pennsylvania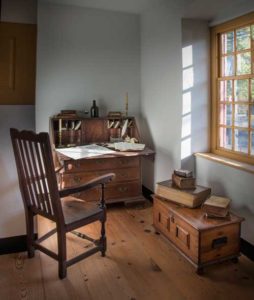 Step inside the world of Lutheran minister Henry Muhlenberg in this special exhibition at his beautifully restored home in Trappe, Montgomery County, Pennsylvania. Organized in conjunction with Trappe's 300th anniversary, the exhibit focuses on the year 1787, when Henry and his wife, Anna Maria, sold the house to their son Peter. Experience three generations living under one roof together with their indentured German and enslaved African servants.
Highlights include splendid examples of Pennsylvania German and Philadelphia furniture, silver, and portraits—many from the Muhlenberg family—on loan from The Speaker's House, home of Frederick Muhlenberg. Other lenders include Muhlenberg descendants, the Dietrich American Foundation, Rocky Hill Collection, Wunsch Americana Foundation, and many private collectors and regional institutions.
Open April 9 through December 31, 2017
The Henry Muhlenberg House is located at 201 W. Main Street, Trappe, PA 19426 and is owned and operated by the Historical Society of Trappe, Collegeville, Perkiomen Valley. It is regularly open for tours on the second and fourth Sundays of the month from 1:30 to 4 p.m. For tour reservations, contact info@historictrappe.org.